Windows successfully loaded the device driver for this hardware but cannot find the hardware device. (Code 41)
Resolution:
This problem occurs if you install a driver for a non-Plug and Play device, but Windows cannot find the device. Here are some things that you can try to resolve this problem.
If the Troubleshooting Wizard does not resolve the problem, do one of the following:
• If the device was removed, uninstall the driver, connect the device, and then click Scan for hardware changes to reinstall the driver.
• If the hardware was not removed, the driver files might be obsolete. In this case, update the driver from Device Manager. In the device Properties dialog box, click the Driver tab, and then click Update Driver to start the Hardware Update Wizard. Follow the instructions to update the driver.
• If the device is a non-Plug and Play device, you may have to install a newer version of the driver. To install non-Plug and Play devices, use the Add Hardware wizard. Click Start, and then click Run. In the Open box, type hdwwiz.cpl.
Recommended resolution:
You should choose professional software to deal with the driver problems.
DriverTuner can assist you update the old drivers with the most recent drivers for your PC and increase the ease at which you can run the latest software like games. It will boost your PC and maximize your PC performance!
Driver Tuner claims to be compatible with all versions of Windows operating systems and no support all major hardware manufacturers in their driver catalog. Users mention that some obscure or difficult to locate drivers are also part of the extensive database, making Driver Tuner especially useful for older version of Windows. Beyond simply updating drivers,
Driver Tuner can smooth out driver conflicts and repair damaged or corrupted driver files, all with the click of one big button in the center of the screen.
How to install drivers via Drivertuner?
Step1. Click the button [Start Scan] to scan for the drivers.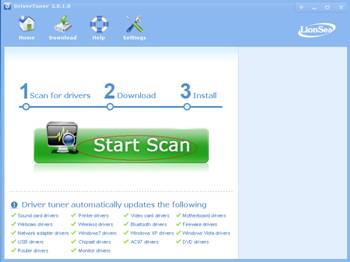 Step2.Browse and choose the drivers you want to fix or update, and then click the button [Download] to download the drivers.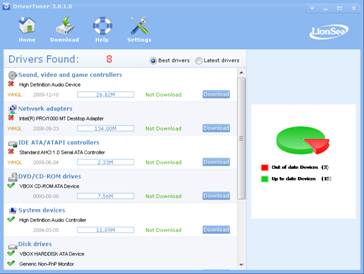 Step3. Install the downloaded drivers.